Erin's Speech Transcript from her Campaign Kickoff
Date Published: May 19, 2023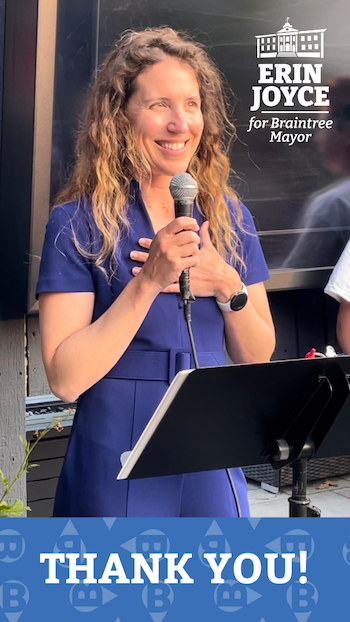 "Thank you Audrey Andronico and thank you all. Thank you to everyone gathered here at Crossroads this evening - so many familiar faces, new faces. I'm so excited to be here. It feels like a culmination of so many interests and passions bring us together tonight. 
And I want to tell you something right now—my name is Erin Joyce and I am running for Mayor of the Town of Braintree.
My husband Michael and I bought our first home on Merritt Avenue in the summer of 2007, sight-unseen by Mike because he was sick and couldn't make the appointment but I was in love with it - so he was too. Buying our first home in Braintree was a huge investment, starting our family on Merritt Avenue was a dream. Merritt Avenue was a wonderful home and neighborhood and we stayed there until 2013 when we moved across Town - to Wyman Road. We live in Braintree and we have a cabin in our yard - yes a hunting cabin, which we hear is one of three originals that date back to the early 1900s. 
I grew up in a working class family—my mother stayed at home and my father started his own small business in land surveying. I grew up in the woods and on construction sites, holding the prism, running a field crew and mapping our Town. I was the first in my family to graduate with a four year college degree—summa cum laude from Syracuse University with a bachelor of science in civil engineering. I landed my first job in Boston working for a woman-run business specializing in land surveying and civil engineering. For years I commuted into the city on the redline. 
In 2010 I started my own business from scratch. Gavin was born a month later and I wanted to be in control of my own schedule, but I had no idea what it would take to bring that business to life AND have a newborn at home. Luckily, I had Mike and I also had so many close family members and friends propping me up and encouraging me along the way. Today Joyce Consulting Group is a well established business that Mike and I run together—and we now have three sons:
Gavin who is 13 and a student at East Middle School; Finian who is 10 and in Ms. Tirrell's 4th grade class at Hollis Elementary and our baby Pearson, who isn't so much a baby and is almost finished with his first year of Kindergarten at Hollis.
So all this—but now why politics, right? 
I've always been familiar with a Town Hall - from the perspective of working in Town and City Halls all over the Commonwealth as a civil engineering consultant in my professional life. In fact, it was the evening of a project presentation in Braintree for a client that I was invited to apply for an open seat on the planning board. Mayor Sullivan appointed me shortly thereafter and that was over 8 years ago! The planning board opened up my eyes to the workings of OUR community - and I enjoyed the work immensely and I kept stepping into different leadership roles around Town Hall. I was on the Master Plan Steering Committee, Charter Review Commission, I took on an appointment to the State Board of Registration for Professional Engineers and Land Surveyors and I sit on a few national committees through that arm. All of these positions have offered a me a valuable perspective on the local, state, and national level and I believe will serve me well in my work for Braintree.  
And if that wasn't busy enough, a dear friend looped me into a leadership position with the Hollis PTO a couple of years ago.  I was engaged, in so many aspects of the Town, but was ultimately disappointed - especially over the last few years.
People would ask why certain things around Town weren't working and I was too close to behind the curtain and I KNEW the complexity of it all … it was not a simple answer - because everything is important of course, but everything is also connected. Where was the voice from Town Hall explaining this, leading us, helping us understand why we may need to make one hard decision to balance out another strong need. It was absent. But I began to see the absence as an opportunity and it was the spark to ignite this fire—my reason for running for Mayor of Braintree. And it is a fire, friends.  Braintree needs strong leadership NOW to get us back on track. Right NOW, we lack adequate fiscal resources to keep up with our daily mix of services. We keep trying to figure out what we can live without instead of trying to figure out what we need to thrive and how we will get there. I feel incredibly vested and able to take on these challenges: I'm a born problem solver and an engineer by trade, but more than anything I want to give back to my community and I'm bringing you all along with me.
Braintree is not in a strong fiscal position. Last year, revenue growth figures fell short by $250,000 causing us to reallocate funds from other places to cover the revenue shortfall. The projection was for $850,000 of new growth and we grew by approximately $600,000. In comparison, our 10-year average growth was $997,000- just shy of $1M. Free cash reserves, aka our rainy day funds, are dwindling - $11M in January 2020 and approaching $3M today. Our Bond Rating, which is essentially the Town's credit score, just fell. This will make it harder and more expensive for us to borrow money for capital improvements. Think new schools... the price just went up. 
A reason for the lowed rating cited 'limited ability to generate additional revenue due to political resistance.' Our infrastructure (think town buildings, sidewalks, roads, school buildings, water systems, sewer systems, transportation networks) has reached its lifetime - and replacement is EXPENSIVE - and we have not kept up. We do not have a plan and we do not have the resources. 
Stabilizing the Town is not going to happen overnight. Running a Town is an infinite game and stability is a requirement. We need to INVEST in understanding our fiscal situation. This process needs to be transparent and it matters that residents, elected officials, and Town employees are informed and are engaged to participate and move us forward. But we need a strong leader - an empathetic leader to engage and collaborate and decisively move us in a direction of stability.
A critical stability issue is related to our schools of course! Our teachers our administrators our custodians amazing! But our plans for what is going on longterm with the schools and how we will pay for them... not so much. 
We have a long list of school building maintenance issues we can't tackle - due to staffing and funding. We have programs that disappeared from our schools in the last few years that have not been restored. 
We have teachers that are trying hard to pivot with the limited resources, working on shoestring budgets - and they are continuing to advocate for our children in the face of a mayor who will not even acknowledge the struggles publicly. We may have tentatively settled the teachers contract - which was expired for 251 days and as the Hollis PTO co-president, I can say that the PTO is thrilled that pleased the teachers are getting recognition for the exceptional learning atmosphere they create - YET the Town still has serious realities that we cannot, longterm, provide the proper support and fund the schools in the way we expect. BPS is in a critical position - the decisions we make or fail to make in the next five years WILL impact our children and our grandchildren. I am committed to intimately understanding this issue - working zealously with all stakeholders and parents to find the right fit for the future of the district and to ensure challenging and innovative programing in safe and functional buildings - new buildings if they make sense, substantially renovated buildings at the least. 
Braintree has always been known for taking care of one other and taking care of families - especially through the lens of our education systems - and we will make it a top priority. 
And guess what? You all are helping Braintree get there. If you are a resident, I am inviting you to participate in whatever way you can. If that means inviting me to meet with your neighborhood - I want to be there. Audrey will tell you: we'll set it up, we'll be there, we'll listen. If you are a business owner with ideas on how to attract new businesses or need tools to support your own business growth - I want to sit with you, I want to learn from you what you need to grow your business - this engagement alone will breath life into our business sector. Together we will all work towards creating a thriving community that supports all residents, businesses, and visitors to Braintree.
The success of our Town is our people. People are the economy and relationships are the currency. We have the tools in this room alone to be successful, but we NEED a new, innovative, collaborative, leader to get us there. I AM that leader.  I have the fire in my stomach to stay engaged and work hard – I will not be discouraged with commentary that Braintree may not be ready for a woman mayor or that I am not qualified, having only been working at Town Hall for a 10th of a century. But I don't just want my name on a lawn sign or on flyers around Town Hall. I aspire to serve as your Mayor and I'd be honored to serve as your Mayor if elected 
So, I humbly ask for your vote in November...
And I boldly ask for you to show up over and over again, for me and for the Town of Braintree!
Because we will win. And Braintree will continue to be the best community on the entire South Shore to put down roots!
Thank you."